Last Spring I mentioned the possiblity of orchestral performances of my music in the United States. I am delighted to say that two performances have now taken place. Both were of my composition for solo Wagner Tuba and Orchestra: The Edel Rhapsody.
Wagner Tuba – A First For The State Of Ohio
Just recently on 24 February 2019, the Edel Rhapsody had its second orchestral performance in the United States, making it a 'first' for the State of Ohio. The concert was staged by the Cleveland Heights Orchestra at the beautiful St Paul's Episcopal Church, Cleveland Heights.
The Wagner tuba soloist was renowned Cleveland hornist Tren Cheshier, principal horn of no less than three orchestras: the Cleveland Heights Orchestra, Cleveland Opera Orchestra and Cleveland Philharmonic Orchestra. Tren has also performed with the Ohio Chamber Orchestra, Cleveland Ballet and Cleveland Jazz Orchestra.
With such a pedigree I was keen to learn how the performance went and what the experience was like for Tren. Here is his reply: "Playing the piece was a wonderful experience and one I'd happily repeat! My musician friends loved the lyricism and Englishness of the melodies."
To read one of the formal music reviews of the performance click here.
Edel Rhapsody First US Performance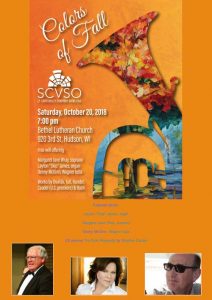 In October 2018 in Hudson, Wisconsin, the St Croix Valley Symphony Orchestra performed the Edel Rhapsody with their principal hornist Denny McGinn as Wagner Tuba soloist. The concert was very well received.
Here is what Denny had to say: "I came across a YouTube recording of the Edel Rhapsody and loved the way that it featured the sound of the Wagner Tuba. I ordered a copy of Edel Rhapsody with piano accompaniment. I liked it so much that I gave a copy of the recording to the SCVSO director and it was put on the SCVSO program for the October 20 concert. The Edel Rhapsody is fun to play and really features the sound of the Wagner Tuba."